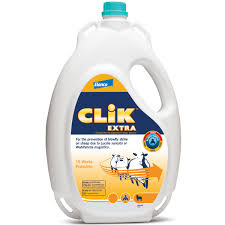 Clik Extra Pour-On - 2.2L or 5L
Regular price £129.00 +VAT Sale
<!– add metadata –>
Clik Pour-On is a water-based ready-to-use, pour-on formulation, containing 5% w/v dicyclanil. Clik will give 19 weeks protection against blowfly strike on sheep and lambs. Clik acts on fly larvae. Its growth-regulating mechanism results in the interference of moulting and pupation, thereby stopping larval development. It should be applied before an anticipated blowfly challange. Meat withdrawal 40 days from last treatment. Sheep producing milk for human consumption must not be treated. LICENSED FOR SHEEP AND LAMBS ONLY.
POM-VPS (PML) Product Information
By ordering this item you confirm that you are the owner or keeper of livestock. We can only supply this product to the United Kingdom.
Important - Veterinary Medicine Regulations 2005
If your order contains a PML or POM-VPS medicine you may receive a telephone call so that we can confirm the order. Please ensure we have your contact details, a mobile telephone number is always helpful. We reserve the right not to supply any medicine at our own discretion.