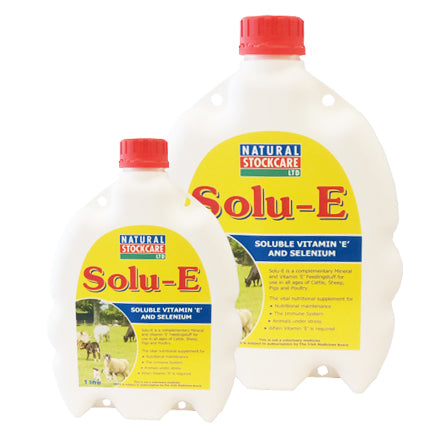 Natural Stockcare Ltd Solu-E
Regular price £29.00 incls. VAT Sale
<!– add metadata –>
Solu-E Vitamin Drench is a highly concentrated liquid supplement suitable for sheep and cattle. Contains Soluble Vitamin E and Selenium. 
Promotes Healthy Digestion: Ruminant animals,  such as sheep and cattle, depend on micro organisms to break down and digest their food. These micro organisms require a supply of selenium to thrive within the animal.
Prevent Selenium Deficiencies: Selenium deficiencies can have a major impact on an animal and can lead to pining, loss of appetite, weight loss, muscular wasting, nutritional anaemia, mastitis and impaired overall metabolism.
Growth and Vitality: Solu-E Vitamin Drench will help calves thrive and will maximise growth rates.
General Health: Solu-E Vitamin Drench helps to promote a healthy immune system and aids in the general good health of sheep and cattle. It also helps maintain muscle tone and encourages the production of red blood cells.