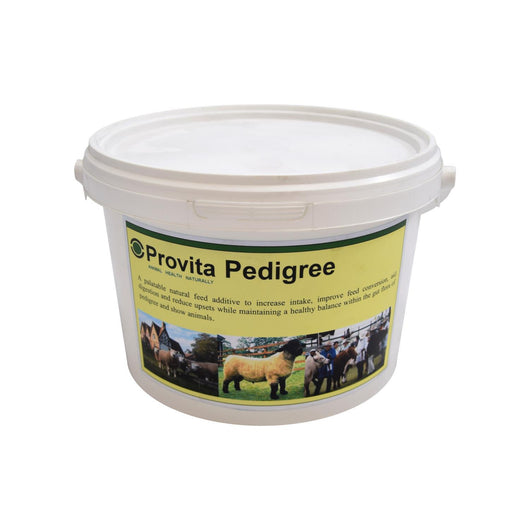 Provita Pedigree
Regular price £33.00 +VAT Sale
<!– add metadata –>
A palatable natural feed additive to increase intake, improve feed conversion, aid digestion and reduce upset while maintaining a healthy balance within the gut flora of pedigree and show animals. 
Pedigree stock breeders will agree that to fully demonstrate the true breed characteristics and growth potential of their stock, high feed levels are essential.
Top Pedigree Beef and Sheep breeders use Provita Pedigree to achieve maximum performance from their prize-winning animals. The combination of 3 different beneficial bacteria's and 2 yeast's in Provita Pedigree (formally known as APL2) increases the animals' digestion rate and efficiency. Provita Pedigree therefore results in better feed-intake, higher growth-rate and improved food conversion ratio. It also eliminates digestive upsets associated with high feed levels. Therefore, pedigree animals that are fed Provita Pedigree feed additive can perform to their full genetic potential.
Specifically, Provita products improve growth rates, FCR, weight gain and also reduce digestive upsets and foot infections as well as boosting mineral, vitamin and trace element levels. Prevention of these problems is absolutely critical to success on Show & Sale day, however, they are also important commercially.
Provita products are, cost effective, proven in independent trials, non-toxic, non-chemical and safe to use. Their efficacy is backed up by the fact that Provita is the only company in Europe to gain a licence for a probiotic.
Provita Pedigree is applied as a daily feed top dressing. To be used daily or during periods of stress or when optimising animal performance prior to events and shows.